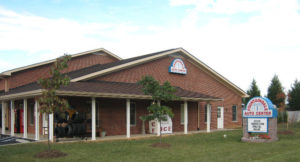 Fountaindale Auto Center began as a small, three bay Esso Station in 1968. The service station was built by Ned Kefauver on the East side of Middletown, in an area called Fountaindale. Ned owned and operated the service station until the early '70s when his brother Richard purchased it from him. The service station became Fountaindale Exxon and the shop operated as Fountaindale Service Center until May of 1999.
Clark Dayhoff began working for Richard in the fall of 1985 as a full service attendant. Through the years he worked his way up and became service manager in 1995. When Richard decided to retire from the Auto Repair portion of the business in 1999, he sold the business to Clark and was renamed Fountaindale Auto Center. Continually growing, it was necessary to build a new, 10 bay facility and move to 19 East Green Street in Middletown. This 8,200 square foot facility has been in operation since July 2003.
Fountaindale Auto Center, with its industry leading 2 year, unlimited mileage warranty, continuous technician training and superior customer service, wants to be your auto care center for many years to come.